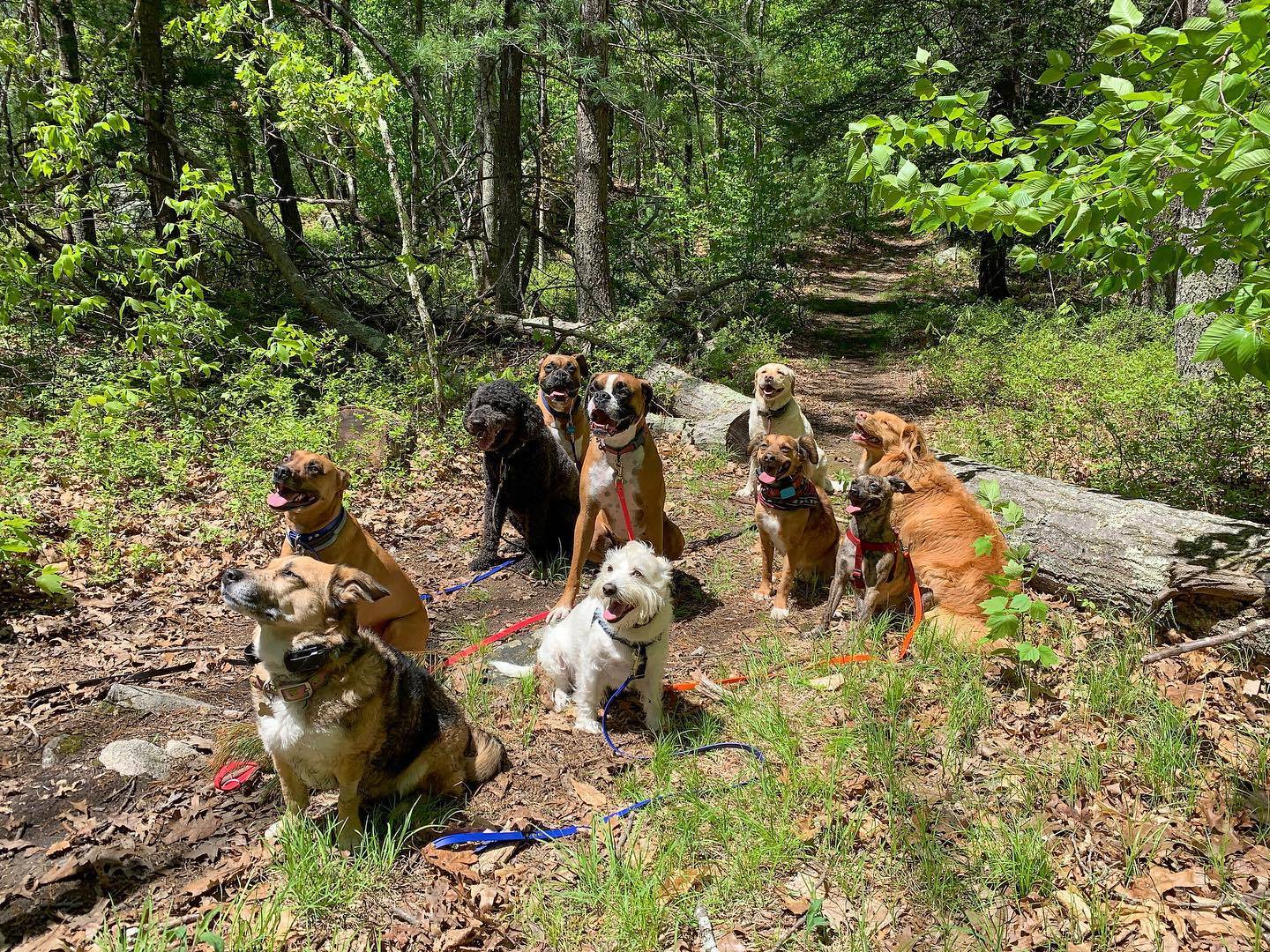 Hiking – First dog: $35 ~ Each additional dog: $15
The most physically, mentally and socially stimulating service. During our hikes your dog will be able to run free, swim and play with friends on secluded trails. Our group hikes are 1 hour long though dogs typically get additional play and walk time and can be out for up to three hours. No dog is "too small" to hike! We welcome all breeds and sizes to join our hiking adventures.
*Off leash hiking is a privilege and available to obedient dogs with a recall.
Private training available to help you and your dog live life off-leash!
Group Walk – First dog: $20 ~ Each additional dog: $5
We like to walk our dogs differently than the others. As a result owners Jessica and Joey take time in learning about each individual dog; uncovering their strengths, weaknesses and motivators to provide the best walks and packs for them. This helps build confident, happy and obedient dogs! Our walks are a mix of training, fun and excitement, each tailored around your dog's needs!
Pet sitting – $75-$90/day
In your home overnight pet sitting ($90) OR three drop in visits ($75). This is a great way to keep your dog comfortable in their own home with additional home security while you are away. We are happy to bring in your mail, receive packages, water plants (Jessica has over 40 house plants!), etc. at no additional charge! Your dog can also join us for a full day of work; walking, playing and hiking with their friends for an additional $20/day. 
Private Training – Contact for pricing. Puppy starter, basic obedience and off-leash control programs available.
Peace in Public – Private Training Clients: FREE
                                Non-Training Clients: $25/family
Peace in Public is a real world training practice class focusing on key behaviors that help incorporate our dogs on more public outings, peacefully! Each class is different offering a mix of basic obedience, bond building, duration work, proper greetings, leash skills, reactive situations and more! You can find class information here: Upcoming Classes
Tails on Trails – FREE
Tails on Trails dog walking club is FREE and open to the public! Does your dog need a little more social time or exercise? Do YOU need a little more social time and fresh air? Then our dog walking club is for you! Come meet your dog's best friends and their owners, you know… the ones you see post in the group all the time! Enjoy a casual and fun stroll through rotating locations! Event details can be found on our facebook page under the "events" tab. We hope to see you there!
After hours/weekend visits – First dog: $30 ~ Each additional dog: $5
Dog walking services needed before 9:00AM, after 5:00PM or during a weekend are charged a rate of time and a half.
Holiday visits – First dog: $35 ~ Each additional dog: $10